The number of Boise Idaho foreclosures sales were higher for the first eight months of 2011 than for 2010.  However, beginning in August 2011, the number of foreclosures in Boise, Idaho  showed a steady decline through the end of the year.  This is a vast improvement from earlier in the year when foreclosures were as high as, or higher than, any other time in the last 2 years.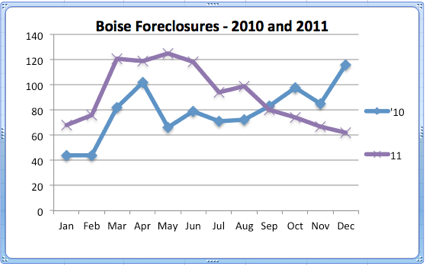 As can be seen in the graph below, the market share of Boise Idaho foreclosures in 2011 were lower than 2010 levels for the last half of the year.  According to Boise market statistics, in June 2011, the market share of Boise foreclosures dropped below 50% for the first time since November 2010.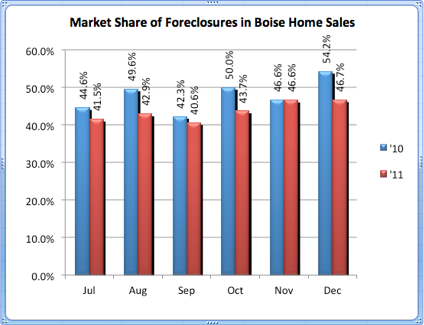 NE Boise holds the lowest market share with 11%, followed by North Boise and SE Boise.  The remaining areas are closely spaced, ranging between 45% and 54% of the Boise foreclosure market share.