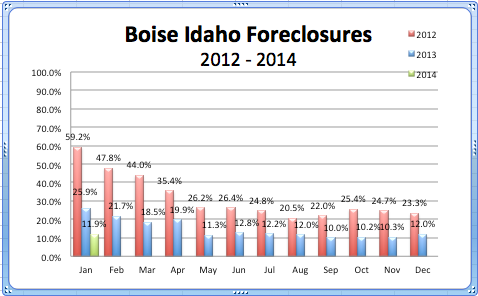 The Boise Idaho foreclosure rate was 14% lower in January of '14, compared to '13; similarly it was also 47% lower than two years ago. Not only did the foreclosure rate drop from January of last year, but it also dropped from the month before; December '13 had a foreclosure rate of 12%. As you can see in the graph above, the foreclosure rate dropped significantly May of last year, and has since only varied a couple of percentage points.
As you can see in the graph below, short sales have dropped steadily in Boise starting last summer and continuing until it hit only 7 homes is January '14. The 7 short sales, marked a 61% drop from the month before in December of '13. Not only that, but short sales are 75% lower than they were January of last year, and 88% lower than 2012. Short sales have not been this low in Boise in over 5 years.
The short sale average in 2013 was 28 homes per month, and in 2012 it was about 56 per month. The 7 short sales in January really is respectively low compared to the previous yearly numbers and averages.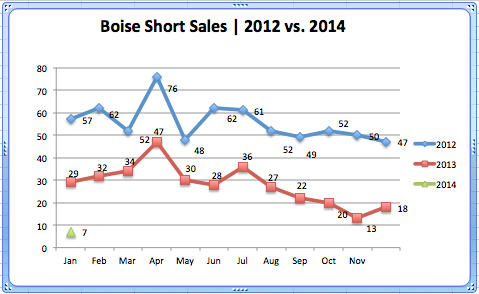 Bank Owned & HUD home sales are also lower than they were last January; a 29% drop from the 24 bank owned/HUD homes sold the year prior; also a 79% drop from 2 years ago in 2012. The highest monthly number of bank owned/HUD home sales in the last couple of years was in January of 2012, and has since then dropped dramatically. The real estate market has shifted back to health in Boise, and is continuing to get healthier . This is also apparent throughout the county.