Boise foreclosures accounted for 23.3% of the total home sales in December, a significant drop from one year ago.  In Dec. 2011 the foreclosure market share was 46.7%, a difference of 23.4%.  Overall, distressed sales have been consistently low since May 2012.  The chart below reflects that since May 2012, Boise foreclosures have essentially been cut in half.   When discussing foreclosures in Boise we are referring to short sales and bank-foreclosures.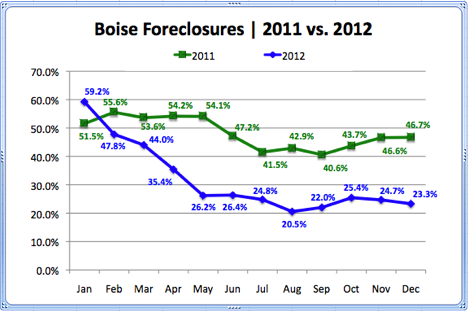 Of the 269 homes sold in December 2012, 62 were foreclosures.  Most of the Boise foreclosures were in the West Boise/Garden City area.  There were 18 total.  The location with the second most was Southwest Boise with 12.  North Boise, which had the third highest total, had 8 foreclosure sales in December.
Short sales were the more dominant type of distressed sale in December.  There were 47 short sales in comparison to 15 bank-owned properties.  That comparison reflects what most of 2012 looked like, with short sales outweighing REO properties.  Still, both are down from one year ago.  For instance, there were 68 short sales in December 2011, 21 more than Dec. 2012 stats.  Also, there were 66 bank-owned and HUD properties sold in Dec. 2011-51 more than Dec. 2012.  The chart below shows the staggering drop in REO properties over the past three years.