The successful purchase of Boise Idaho foreclosures has been getting much more competitive as inventories decrease.  As can be seen below, there were fewer sales of foreclosure properties in June 2012 than at any other time since foreclosure records have been kept by the Intermountain MLS.  In 2011, the Boise Idaho foreclosure market share stayed mostly between 25% and 40%, and the beginning of 2012 was no exception even though February 2012 showed a decrease of 10 percentage points to a 25% market share.  Since March 2012, however, we've seen a steady and dramatic decline.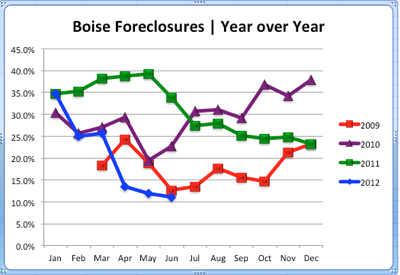 In June 2012, there were 406 home sales in Boise.  Of this total, only 45 were Boise ID foreclosures, resulting in an 11.1% market share.  Non-foreclosure properties constituted 73.7%.  The remaining 15.2% were Boise ID short sales, also known as pre-foreclosures.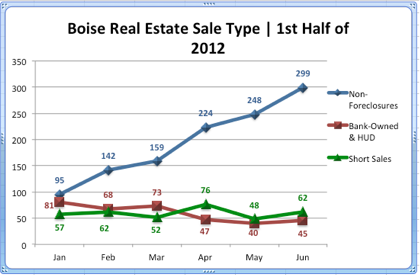 Even though total sales have steadily increased since the beginning of the year, the market share of Boise ID foreclosures has decreased, resulting in more multiple-offer situations than ever before. Buyers can still get a good value for their home-buying dollar with Boise Idaho foreclosures, but they may need to be more aggressive when making an offer.
If you have any questions about Boise Idaho foreclosures, feel free to contact us.

Home sales in the Boise Idaho real estate market leaped to its highest level in months during September, with 322 home sales.  This amount is enough to even outpace the summer months, as many people are buying now to get in before the tax credit deadline.  The graph below shows total sales for the Boise Idaho real estate market over the last five months:
Of the 322 home sales in the Boise Idaho real estate market, SW Boise-Meridian led the way with 17% of the total, with W Boise-Garden City close behind at 16%.  The entire breakdown of sales is shown in the following graph: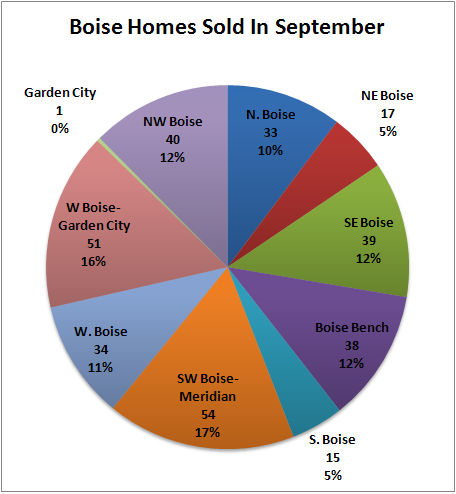 Boise Idaho foreclosures made up 32.9% of all the home sales ( bank-owned sales or Boise ID short sales).  This percentage is up from previous months, as the chart below shows:
Data source:  Boise MLS (IMLS).  Information not guaranteed.